http://www.industrialmanuals.com/gleason-spiral-bevel-hypoid-cutter-sharpener-operators-instruct-manual-p-909.php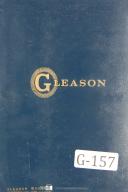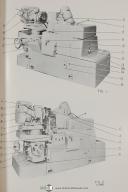 Gleason Operators Instruct No 13 Spiral Bevel Hypoid Cutter Sharpener Manual



This Manual Covers Models:


No. 13
#13


This Manual Includes:
Description of Machine, Installation, Electrical Data, Lubrication
Hydraulic Supply Unit, Coolant, Grinding Wheels
Operation of Machine:
Disconnect Switch, Changing Grinding Wheels
Offset, Angular, Swivel, and Cross Slide Settings
Index, Grinding Gage, Setting Diamond, Dressing
Gauging the Cutter, Stopping Position and Timing
Dresser Diamond & Cutter Gage
Electrical Data-Sequence of Operations, Elementary Wiring Diagram
Angular Settings and Offsets for Standard Spiral Bevel Cutters &
Jobbing Cutters
Angular Settings and Offsets for Formate Spiral Bevel and Hypoid
Cutters and Generated Hypoid Cutters
Single Cycle Gear Finishing
Maintenance and Lubrication
Much More!!!

This Manual Has
52

Printed Pages.