http://industrialmanuals.com/petermann-screw-machine-vintage-operations-handbook-manual-p-1605.php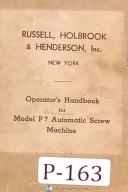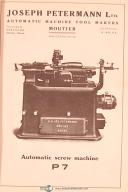 Petermann P7 Screw Machine Vintage Operations Handbook Manual





This Manual Covers Models:


P7



This Manual Includes:
Joseph Petermann Automatic Machine Tool Makers, Moutier
Russell, Holbrook & Henderson, Inc.
Characteristics of the Machine
Machine with 1430 and 1200 r.p.m. Motor (Production Table)
Machine with 930 r.p.m. Motor (Production Table)
Arrangement of the Threading Pulleys and Ratio of Threading
Instructions for the Putting into Operation of a Machine Equipped and Mounted for the Making of


any Particular Component
Adjusting the Headstock
Fitting the Headstock Belt
Dimensions of Cutting Tools
Wiring Diagram for Electrical Equipment
Templates
Drilling Examples
Cutting Feeds Speeds
Degrees required for Operation
Instructions for Tracing
Two-Spindle Attachment, mod 242, Specification and Cam Arrangement
Tables
Examples of Production Calculation
Screw Head Slotting Attachment
Instructions for Using the Cam Milling Machine
This Manual Has
84

Printed Pages.