http://industrialmanuals.com/warner-swasey-chucking-automatic-m3200-lots-incl-service-manual-p-1816.php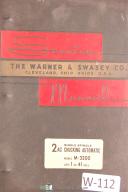 Warner & Swasey 2AC Single Spindle Chucking Automatic Model M-3200, Lots 1 to 41 Service Manual



This Manual Covers Models:


2AC
M-3200
Lots 1 to 41 Inclusive



This Manual Includes:
Machine Tool Data Sheet
Motors for Lots 1-3 Incl.
Single & Two Speed Machines Start Lot 15
For Two Speed Machines Start Lot 33
Miscellaneous Electrical Equipment Parts
Assembly Instructions-Adjustment of Limit Switches in Lever Support Assemblies
Assembly Instructions for Setting Geneva Limit Switch
No. 1AC (6") Single Spindle Automatic
No. 2AC (9") Single Spindle Automatic
Instructions for Timing Turret and Cross Slides
Instructions for Replacing Shear Pin
Instructions for Setting Indicators on Cross Slides and Pentagon Bar
Cross Slide Adjustments
Lubrications Specifications
Installation Instructions and Parts List for S-P Power Chucks and Cylinders Bulletin 12E
Instructions for Ordering Repair Parts
Index Brake – Service Manual , Series 4 Polyphase A.C. Brake
Warner Electric Brake Main Parts and Trouble Shooting
Autogap Installation Instructions
Machining Instructions for Gear, Sprocket or Pulley
Plates 10 thru 15 including Operators Panel

This Manual Has
89

Printed Pages.