http://industrialmanuals.com/warner-swasey-m1320-turret-lathe-service-manual-year-1941-p-2317.php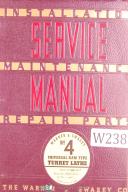 Warner & Swasey NO. 4, M-1320 – Lot 31, Turret Lathe Service Manual Year (1941)



This Manual Covers Models:

No. 4
M-1320
Lot 31



This Manual Includes:
Installation
Maintenance
Repair Parts

Erecting
Alignment
Headstock
Preselector:
Surface Speed Selection
Application
How shift Gears
Changing the Drum Dial, Etc.
Cross Slide Carriage
Turret Slide and Saddle
Spindle Removal and Assembly
Data Sheet Page 21, Dwg. No. C-74332, December 19, 1935

Repair Parts Section:
Plates 1 thru 22
Functional Illustrated Diagrams Showing Component Identification
Right Down to the Wrenches to be used.

This Manual Has 58
Printed Pages.
Year 1941