http://industrialmanuals.com/norman-type-milling-machine-install-operations-parts-manual-p-2260.php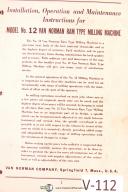 Van Norman No. 12 , Ram Type Milling Machine, Installation – Operation – Maintenance Instructions & Parts Manual



This Manual Covers Models:
No. 12

This Manual Includes:


Machine Views, Front & Back
Handling
Leveling
Initial Cleaning and Preparation for operation
Wiring and Electrical Controls
Lubrication
Operation
Gib Adjustments
Feed Screw Adjustments
Parts List:
and Instructions for Ordering Replacement Parts
Functional Illustrated Drawings Showing Component Identification





This Manual Has

16

Printed Pages.